In times of crisis, education and reputable information are everything. While the world may feel an overwhelming surge of chaos, prioritizing the right information regarding COVID-19 and how it may affect your athletic organization is critical.
We're here to help provide a basic understanding of why sports are where they are today with respect to COVID-19 and help your understanding of precautions and prevention.
Coined by epidemiologists, the strategy aimed to prevent the spread of the virus is referred to as "flattening the curve," and it looks like this: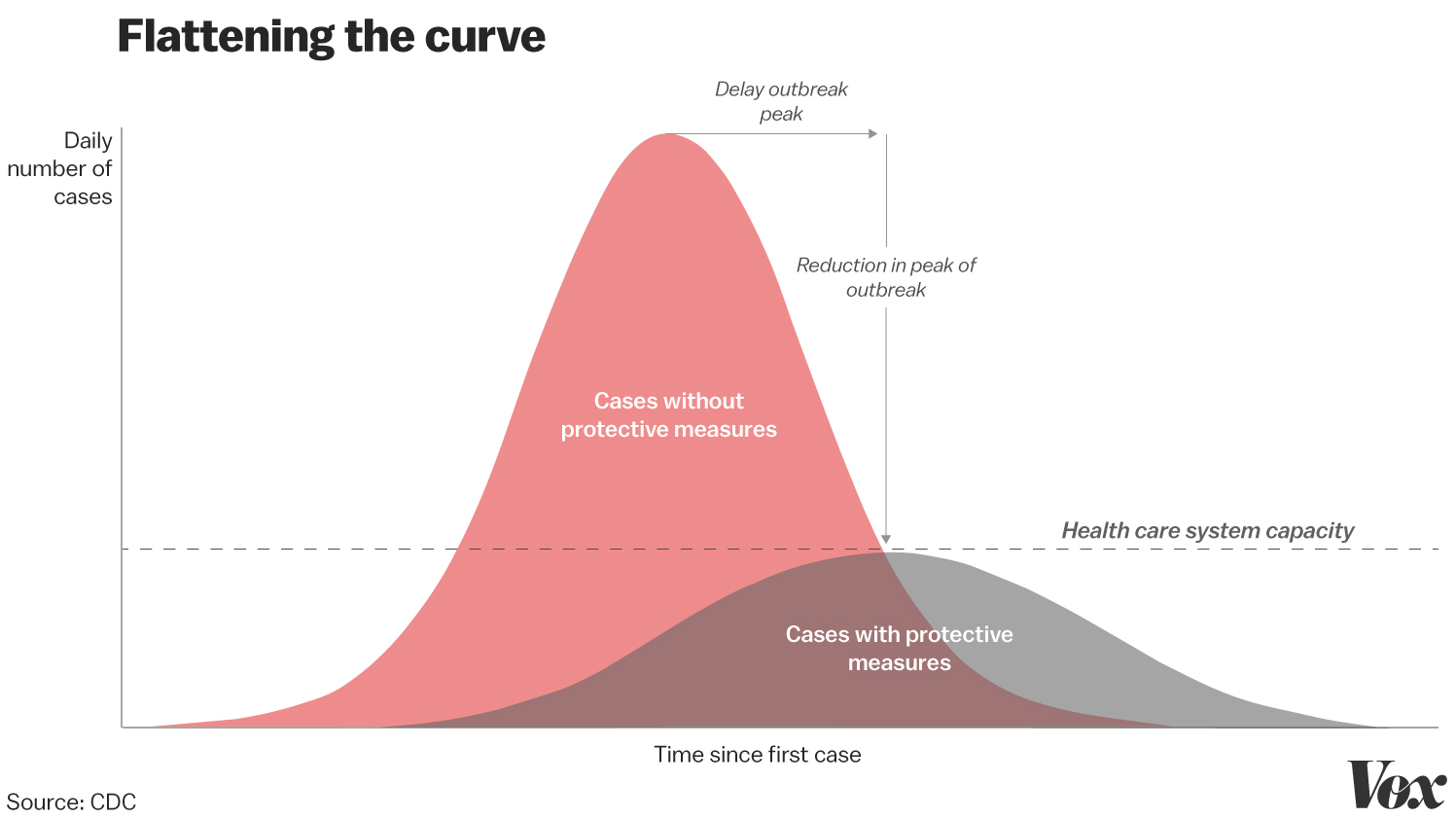 This graph is an excellent representation of how, if protective measures are put in place, we can prevent significant community burden of COVID-19. The graph also depicts the significance of disease transmission if the measures being taken (i.e. canceling of sporting events, large gatherings, etc.) were not in place. By putting these drastic measures in place, we are hoping to "flatten the curve"; in effect decreasing the potential disease burden and therefore not overwhelming our healthcare resources for those who need it most. Even with these measures in place, COVID-19 has the potential to become overwhelming for the healthcare system.
Many of us do not think of healthcare and diseases in a community sense, we appropriately focus on our individual effect of disease and illness. By focusing solely on our personal recovery and healing we neglect to understand that other at-risk populations who may contract this virus (i.e. elderly individuals, individuals with underlying health conditions, respiratory conditions, etc.), may not recover and suffer catastrophic outcomes. In this situation, we must think of ourselves AND others to limit transmission as much as possible.
So, you may ask, "How can I do my part"?
Check out the CDC Website for up-to-date information and recommendations.
Practice Social Isolation as much as reasonably possible. Some individuals may not know they are affected and could be transmitted to others without even knowing.
Practice proper hygiene including handwashing, coughing/sneezing into your elbow or jacket, etc.
In this unique public health crisis, all of our efforts should aim to decrease the overall transmission of COVID-19 which will ultimately allow us to treat at-risk individuals without having our healthcare resources overwhelmed.
As with any major healthcare and disease questions or concerns, we encourage everyone to stay up to date with the latest CDC recommendations, as well as refer to the resources provided by the NCAA regarding these issues.
Driven by a mission to prioritize the health and safety of athletes, USCAH's dedication to consumer health and safety continues to be a top priority in this time of crisis. It's these issues and other issues that emphasize why you need a partner like USCAH in preparation for, and in times of crisis. Should your athletic organization or institution need guidance or education regarding how your organization can better prepare for healthcare concerns, please reach out to the USCAH team at info@uscah.com.